Steelhead's Salute to the Troops
started out well. Sadly the morning activities were outside of my timezone but the afternoon activities went well.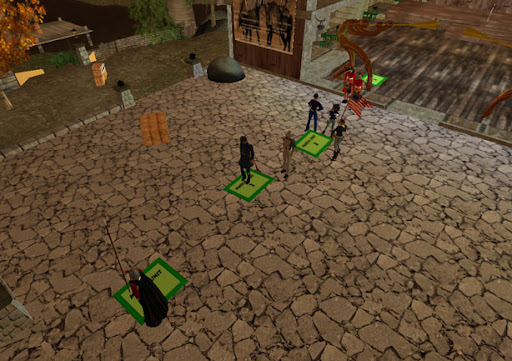 The infantry parade consisting of Elizabethan, American Civil War, and Highland regiments. With myself and Maklin Deckard representing the Caledon Highland Regiment.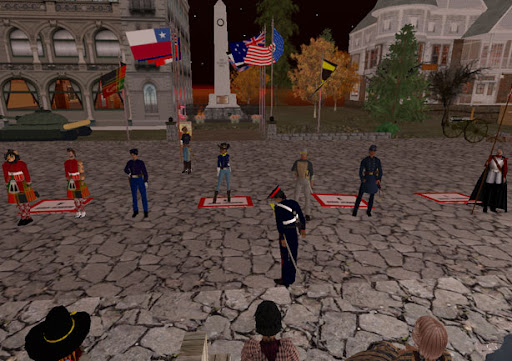 The troops lined up for inspection.
The Caledon Highland Regiment was awarded second place.
Later in the day the cavalry regiments paraded through the street.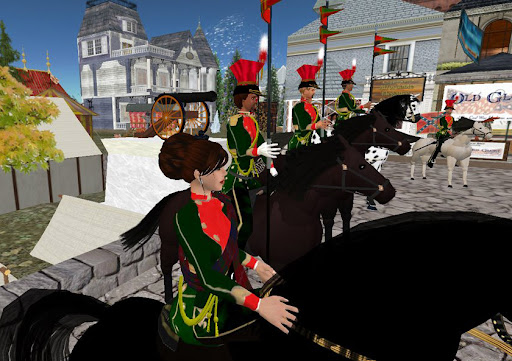 The Caledon Lancers.
(Picture courtesy of Loch Avie)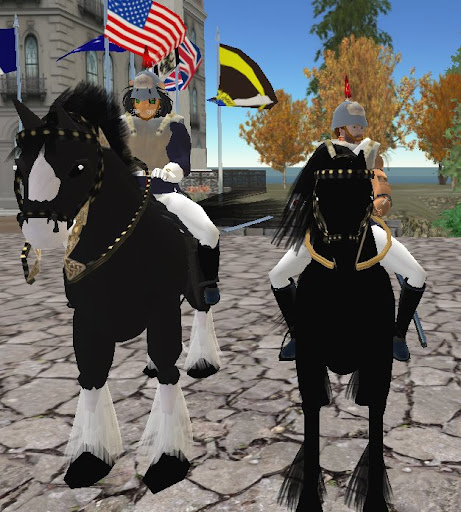 (Picture courtesy of Loch Avie)
I had initially ridden through with the Lancers but in a cheeky move I rode back round and changed uniforms to the Carntaigh Cuirassiers, with Mr. Deckard again joining me. I seem to have had a few enquiries about the Cuirassiers this week. I may have to organise a group and start scheduling some events.
Back in Steelhead that evening was the Salute to the Troops Ball. Sadly on arrival my composure was rather taken aback. Rather than the advertised "Veterans Appreciation Event *Honoring Gettysburg, WWI Armistice Day, and All Soldiers From All Eras!" I was greeted me was a plethora of red, white and blue bunting with flags from all branches of the United States Military (including one for an MIA group that I'd never heard of) but NOT ONE SINGLE FLAG FROM ANY COUNTRY FROM ANYWHERE ELSE IN THE WORLD! Now I know that there are Americans who only know of the existence of other countries because the illegal immigrants obviously come from somewhere else. However if you're going to promote your event as something from "all troops from all eras", then a casual dismissal of "I thought it was for US Veterans' Day" does not suffice. Nor does telling me I'm welcome to put out flags if I want. I realise that the owners of Old Glory were major organisers for the event (and I'm not going to get into the spectre of "American Civil War" vs. "Civil War" again just at the moment) but really people, you need to remember that SL is an international area.
Deciding not to say anything further and thereby keeping my temper I headed to Loch Avie to join the Caledonians for the Social Season's Pre-Thanksgiving Ball.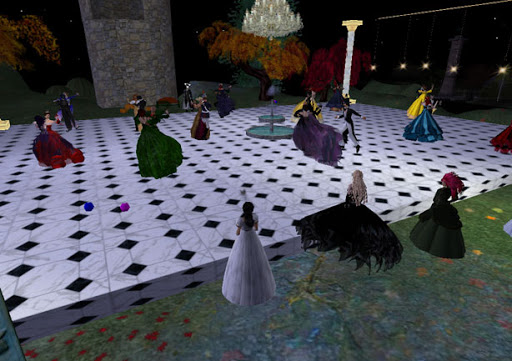 Here I danced and calmed down somewhat.
Her Grace of Loch Avie
has collected a far better sampling of pictures than I had the heart for on the night.
I am missing my dear Christine all the more at times like this. Thankfully her travels will bring her back to me this week.