Saturday night saw the last day of the Harvest Festival with the Highland Fling in Loch Avie. It was an all day even but sadly my time zone prevented my earlier attendance. Further delays occurred when I discovered that the playlist I had put together for the night had not saved as I thought. My good intentions of getting in world a little earlier were taken up by rebuilding the playlist.
I
did
manage to get in to compete in the open tournament for the Loch Avie Academy of Arms, having watched some spirited competition as I arrived. I took myself out of the first round, having lagged enough to have walked off the edge of the area (and started plummeting to earth) so I didn't think it fair to rejoin after others had already culled the numbers. I competed in the second round though and made it to the final 5 before being cut down.
Sadly I was so busy trying to stave off my attackers I forgot to take photos.
Then I had a mad dash to get Baron Wulfenbach's kilt finished, which I did just as the music handover from the Antiquity Ball went ahead. A rather mad half hour there :-)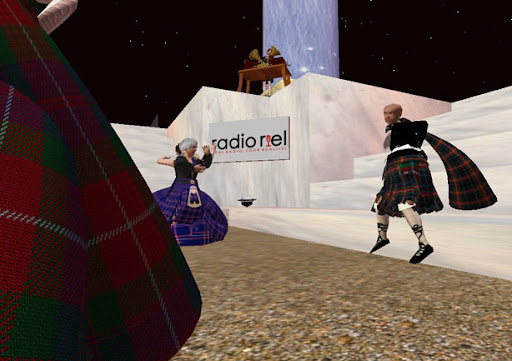 Baron Wulfenbach's kilt is the purple one in the centre. To the left is one of the kilts commissioned by Her Grace of Loch Avie for Caln Belambi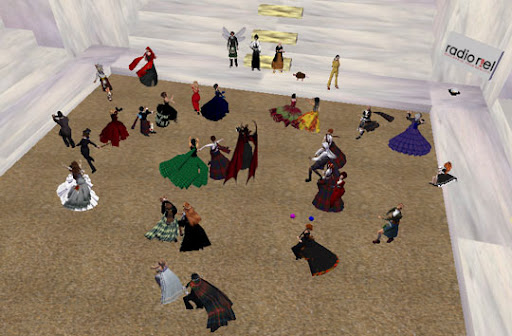 Lots of tartans and swinging hips as the crowd enjoys a Scottish themed music selection.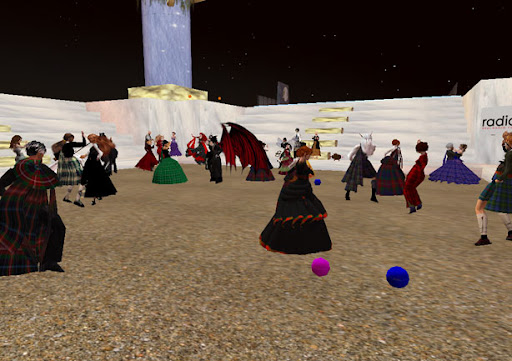 I believe there were about 30 people or so in the sky that night
There was dancing with cabers, haggises, and assorted merriment. I ended up playing for an extra hour past the scheduled time. Great fun was had by all I think.