Steelhead's dance this week was the nicely original
Fast Food
theme.
For some reason I got it into my head that Ronald McDonald was the way to go. This was partially inspired by one of the former denizens of Steelhead, Mr. Keenly Valiant, but also something that I thought would be fairly easy. In hind sight Colonel Sanders may have been the simpler option but there you go. I think I looked at every clown costume on the grid (not that there are many) from the cheap Rodeo Clowns to one that was L$2000, none of which were what I was looking for anyway. I ended up deciding to make my own. Texturing was easy enough and that was all accomplished fairly well, though the hair was proving a problem. Thinking I could simply retexture an afro hairdo I again launched across the grid looking for hair, and again met with dubious little results. Ended up wondering if SLX might have anything. Bought a L$99 afro there that was mod/copy which I thought would be perfect. However the 200 prims it's made of brought me up short when I started looking at retexturing.
I threw together a single prim hair piece and headed over to the dance (time flies when you're building!) It was sparsely attended to start with but then the people started to arrive.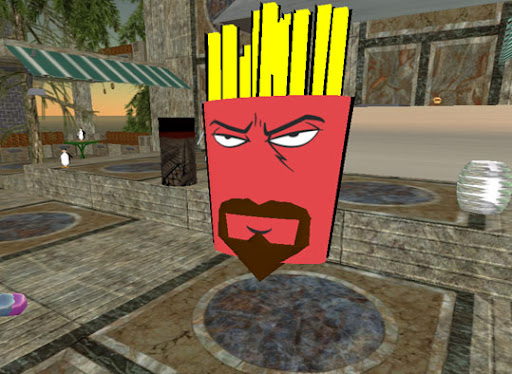 Steelhead's very own musical Sheriff was Frylock, complete with goatee. (I wonder if this means there's a "nice" version of Fuzz in alternate universe?)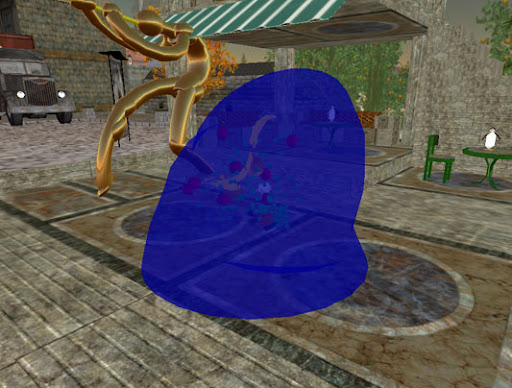 Gelatinous wobbly thing, Miss Orr appears to have eaten Carmen Miranda. I don't think we ever established what flavour jelly she was.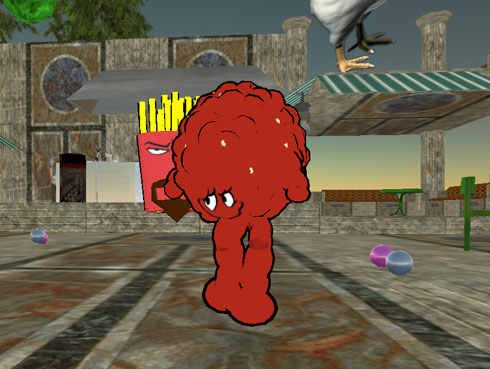 Lunar as Meatwad. I believe this is from a comic of some sort.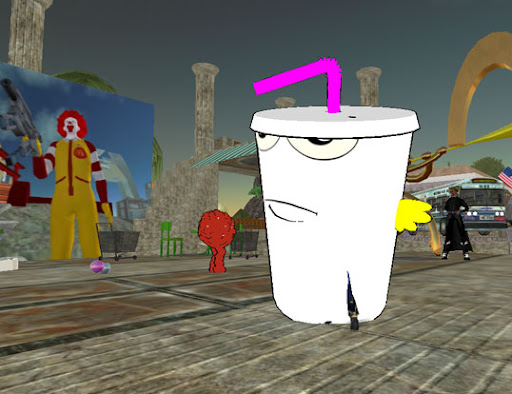 Tensai as Master Shake. With a memorial portrait to Keenly to the left.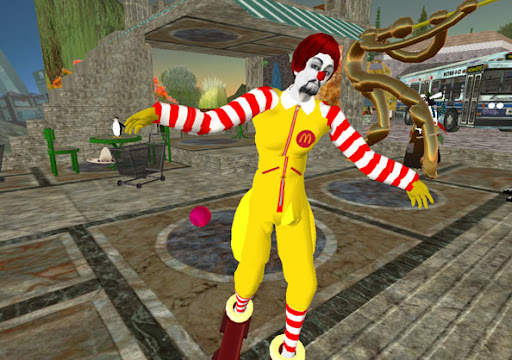 My McClown. He needs work but not bad for a couple of hours work.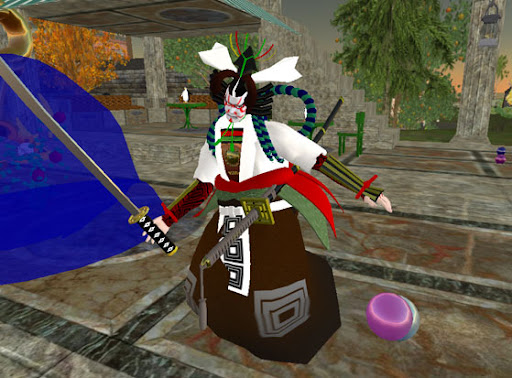 Exrex Somme as some sort of Chinese Takeaway I think.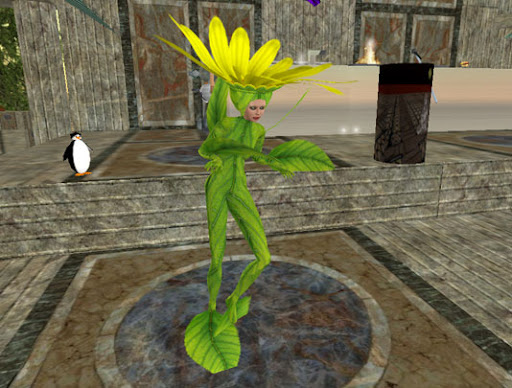 Frequency Picnic as something that you see very occasionally in fast food.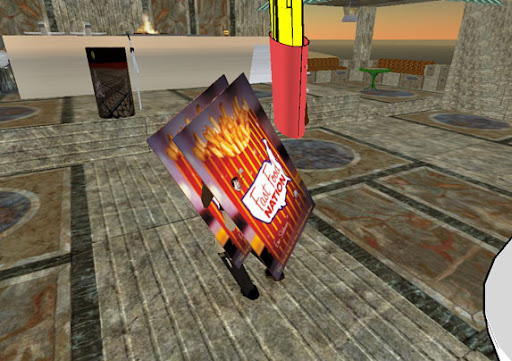 Mr. O'Toole as Fastfood Nation
I dropped in to the Rock Factory, now in the brand new sim of jazzers Paradise, to see Dr. Figaro for about half an hour. She was grooving her way through her favourite Jpop stuff. Managed to scare a few people by still being McClowned. Headed back to Steelhead just before it coughed towards the end throwing everyone out. But there was plenty of party vibes going so that even after Fuzz finished for the night, Tensai found a station on Sky FM broadcasting 80s stuff and a few of us kept on dancing.
Brilliant night and loads of fun as usual.