Last week's roleplay for the militia, which started as a light-hearted disagreement about which end of a hardboiled egg should be opened at breakfast, was by and large a success. Sadly its culmination was the down point of the week.
Base camp for the Red Team in Loch Avie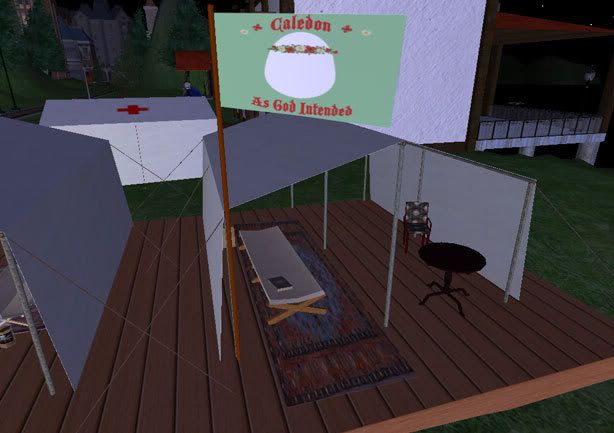 Sergeant Hapmouche displays the correct way of eating eggs.
Saturday's wargame finale had many unforeseen problems which culminated in the Red team quitting the field halfway through. Tempers were high and tact was at a minimum and pompous self congratulation further exacerbated things.
Much of the complaint and issues with the Conflagration have been covered elsewhere (see
here
,
here
,
here
and
here
) but I know I was personally disappointed in the Red team's behaviour. I fully appreciate the reasons for leaving but I wasn't impressed.
That said I would like to extend my deepest respects to Alfonso Avalanche and Lapin Paris for their outstanding efforts during the week and for the trouble they took in calming hackles that were raised at the start and the end of events.
I suppose it really does drive home the point about RP that setting up combat within Caledon brings the fun crashing down. This may explain why so many of the Western RP sims seem riddled with bitchiness. It might be time to promulgate Lord Bardhaven's idea about the fictional Vulgarians. Which in itself reminds me of an Australian TV show's fictional country of Biddleonia that was created back in the 70s as a locale to transfer all the ethnic jokes to.