Thursday night will see the beginning of what I hope will be a regular spot for the Radio Riel programme: an evening broadcast of a Radio Play each week from the HQ in Caledon Penzance.
This week's broadcast will begin with an adaptation of that captured my imagination as a child and is still very dear to me despite few people having ever heard it.
Nicol Williamson's version of
The Hobbit
.
Nicol Williamson, possibly best know to many people as the chrome skulled Merlin from John Boorman's
Excalibur
, narrates an abridged version and performs about 20 different voice characterisations for this recording of the story.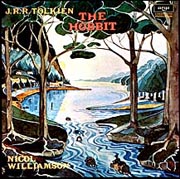 Released on 4 LPs in 1974 by Argo Records, adapted and produced by Harley Usil. Williamson does all the voice work with traditional medieval music used as bridging pieces throughout.
Sadly the set has never been released on CD and the originals now fetch rather steep prices with collectors.
So join us at the
Caledon Penzance HQ
at 7:00 PM SLT
Each week will be an hours worth of radio play. Join us this Thursday for
An Unexpected Party
or listen in on
http://music2.radioriel.org
via your favourite stream media player.